CAMPING POLICY
Overnight parking or camping in your car, truck or RV is not permitted in the Kirkwood Valley. See below for alternative overnight parking options. Refer to the official California OHV website for rules, regulations and permit information for California Sno-Parks.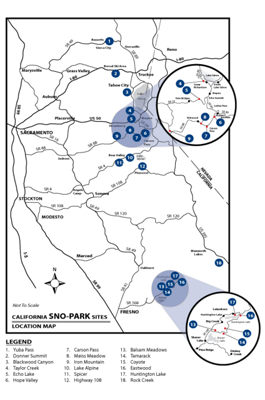 Alternative Overnight Parking/Camping
Jackson Rancheria, Jackson, CA – 52.6 miles. All hook ups, all sizes.
Tahoe Valley Campground
, South Lake Tahoe, CA - 31.5 miles. All hook ups, all sizes.
Website
Grover Hot Springs, Markleeville
, CA – 30 Miles. Limit on size and space during the winter. Spaces and hook ups are limited on snowpack.
Website
Carson Valley Inn RV Park
, Minden NV - 36 Miles. Offers 59 full-hookup sites with electric, water, sewer and cable TV. There are a total of 25 pull through sites and 34 back-in sites.
Website
Carson River Resort, Markleeville
, CA - 29 Miles. Small RV park, will plow a spot it snowpack is not deep, most likely no hookups. Call in advance for pricing and options during winter months.
Website
49er Village RV Resort
, Plymouth, CA - 55 Miles. Pool, spa, deli, all hookups, all sizes.
Website
* Please note all require reservations in advance.