Kirkwood Banked Slalom is BACK April 16th
Come out for a full day of fun. One Day - 10 age divisions - Lots of turns.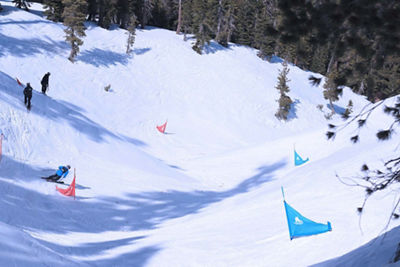 April 16th
Banked Slalom
Kirkwood's Annual Banked Slalom, driven by Toyota is back again.
Held in Snow Snake Gully this event is a staple for the mountain and the community. Hosted by Kirkwood Mountain Resort and driven by Toyota. Race operations executed by the KSEF.

**This event is weather & snow dependent.**
**Details subject to change**
Ticket Purchase - "The Fishbowl"
Stop in the "Fishbowl" next to the Wall Bar
3:00 PM until 6:00PM on Saturday April 15th.
7:00 AM to 8:30 AM on Sunday April 16th.
Cost -$25
(Does not include lift ticket)

RACE DAY DETAILS

You MUST purchase and show your event ticket for race prior to registering and receiving race bib.
IMPORTANT:
Racers will run in Bib order only. No line cutting etc.
If you miss your start you will go at the end after bib #150

9am Course Inspection

10:15 MANDATORY Riders Safety Meeting at Race Start (BASE OF CHAIR 11)

10:30 Start Time

Awards: 1hr after last racer in the Village Plaza

Divisions
(One run per racer)
8 & Under
9&10
11&12
13-15
16-19
20-29
30-39
40-49
50-59
60+

1 Run per athlete
Race Divisions will be divided between Boys/Girls & Ski/SB