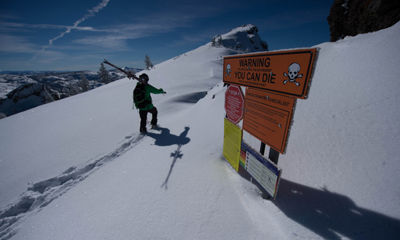 Under the law, any individual who engages in the sport of skiing, alpine or nordic, or any person who is within the boundaries of a ski area for the purpose of observing any skiing activity, accepts and assumes the inherent risk of skiing insofar as they are reasonably obvious, expected or necessary.
Inherent risks of skiing include, but are not limited to, those dangers or conditions which are an integral part of the sport, and can also include changing weather conditions, variation or steepness of terrain, snow or ice conditions, surface or subsurface conditions, whether man-modified or not, bare spots, creeks, gully, forest growth or rocks, stumps, lift towers and other structures and their components, collision with other skiers and a skier's failure to ski within the skier's own ability.
Kirkwood is committed to promoting skier safety.
In addition to people using traditional alpine ski equipment, you may be joined on the slopes by snowboarders, telemark skiers or cross-country skiers, skiers with disabilities, skiers with specialized equipment and others.
Always show courtesy to others and be aware that there are elements of risk in skiing and snowboarding that common sense and personal awareness can help reduce.
Know your ability level and stay within it. Observe "Your Responsibility Code" and share with other skiers the responsibility for a great skiing experience.