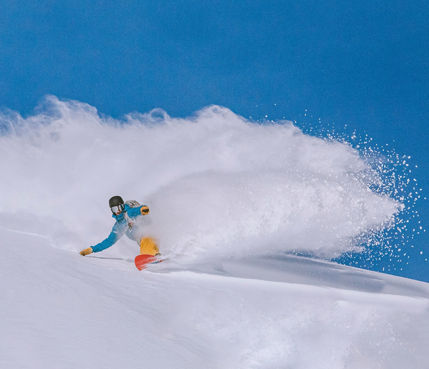 California is famous for its year-round sunshine and beautiful beaches, giving the impression of a land of eternal summer. Ask any Californian what they love most about their home state, and there's a good chance they'll answer with diversity -- the state's greatest asset is its exceptional variety of cultures, climates, and geography.

Sunshine and snow readily coexist in California, both of ample intensity for amazing outdoor recreation. You really can surf and ski on the same day, but when winter comes around, it's better to focus on planning a California winter vacation in the mountains. Schedule a few days to experience the state's best snow sports action at Kirkwood Ski Resort near Lake Tahoe, and you'll appreciate a new side of the Golden State.


Discover the Best Snow in California's Sierra Nevada
Except for the rare freak cold spell in low-lying regions, snow in California only falls in the mountains and foothills during the wet season of November to April. Despite its reputation for sunny weather, California does get some serious, heavy snow. Remember that the highest mountain in the contiguous United States — the 14,505-foot Mount Whitney — is in California's Sierra Nevada Mountain range.
The Sierra Nevada, which runs along California's eastern edge, gets most of the state's snowfall and is home to its most popular ski resorts. The high country gets up to 38 feet of snow over the season, with the greatest amounts falling around the Lake Tahoe Basin. Mountain peaks around Lake Tahoe range from 7,000 to 10,000 feet and average about 300 to 500 inches of snow each winter. Yet, the climate is uncommonly mild, with 300 days of sunshine a year. Great quantities of snow plus clear, sunny days make Lake Tahoe a spectacular ski destination.
Snow Conditions at Kirkwood
Kirkwood Ski Resort is in the Tahoe Basin, 35 miles from South Lake Tahoe, the largest city on the lake. Not only is Kirkwood within the Tahoe Basin, which gets more snow than anywhere else in California, but the resort has its own unique microclimate and gets more snow than anywhere else in Tahoe. Kirkwood sits in a particular spot where precipitation unloads after funneling through a narrow canyon in the foothills, a phenomenon known as "the K-Factor." It results in frequent powder days and an average snowfall of 354 inches.
Kirkwood is often called a
hidden gem
due to these exceptional conditions. The resort has a base elevation of 7,800 feet and summit elevation of 9,800 feet. The resort comprises five mountain peaks, 86 trails, 15 lifts, and 2,300 skiable acres, taking full advantage of nature's abundant snow offerings. The snowy season in Tahoe is from November to April, with the exact dates of ski area openings varying from year to year. For most years, Kirkwood Mountain Resort's opening date is in early December.
Driving to Lake Tahoe/Kirkwood
The closest major cities to Kirkwood are Reno, Nevada, which is 83 miles to the north and Sacramento, California, 97 miles to the west. Both cities have major airports. Kirkwood is also a feasible destination for a snow vacation by driving from the Bay Area (three to four hours in the car) or even Southern California (seven to nine hours).
Before setting off for Kirkwood, plan your route and check the up-to-date
road conditions
with Caltrans. You can also check out Caltrans'
CCTV maps
along your route. Highways 50 and 80 are usually plowed quickly and thoroughly after snow storms. However, CA-88, which leads to Kirkwood, might remain hazardous during and after winter storms. The Carson Spur and Carson Pass areas on the way to Kirkwood are especially prone to dangerous conditions and closures.
Be aware of potential chain controls. Always have tire chains or cables to fit your vehicle's specific tires. Drivers are often required to have chains or cables available, so read up on
Caltrans' regulations
and check for up-to-date conditions prior to hitting the road.
If you're unaccustomed to driving in the snow or mountains, read up on
winter driving tips
. You might also investigate alternative transportation options to Kirkwood, such as the Bay Area Ski Bus or North American Charter Ski, both of which run from the Bay Area and Sacramento. The Tahoe to Kirkwood shuttle operates on Wednesdays but can be booked as a private shuttle on other days.
Planning Your Snowy California Vacation
Snow vacations generally require considerable planning. As the details of a vacation to Kirkwood can change due to the weather, it's also good to be flexible and have a backup plan. Check the weather forecast,
mountain webcams
, and Kirkwood's
snow report
in the days leading up to your planned vacation and immediately before you leave home.
Skiing and Snowboarding at Kirkwood
Kirkwood Ski Resort is a favorite among experienced skiers and snowboarders, as most of its terrain is rated intermediate, advanced, or expert. There's still ample fun for beginners.
As part of planning your ski and snowboarding adventures, book lift passes, equipment rentals, and lessons in advance. (They're usually available upon arrival but might sell out.) Pick up a trail map at the resort or find one online or on the My Epic app and plan your activities. Beginners should consider the blue and green runs in the Timber Creek area. Experts might head to Chair 10 and The Wall.
Protect Your Skin and Eyes
Pack sunscreen and sunglasses along with all your snow gear! That California sun doesn't go away just because there's fresh snow on the ground.
Get Ready for the Powder Days at Kirkwood
Choose lodging at Kirkwood for slope-side convenience. Options include luxury two-bedroom townhomes at
The Sentinels
; three-bedroom townhomes at
Timber Ridge
; and one-, two-, or three-bedroom condos at
Snowcrest Lodge
. The
Mountain Club
boasts an unrivaled snow-side location with ski lockers and a range of lodging options. Find budget-friendly condos at
The Meadows Region
, which is a short walk to two chair lifts.