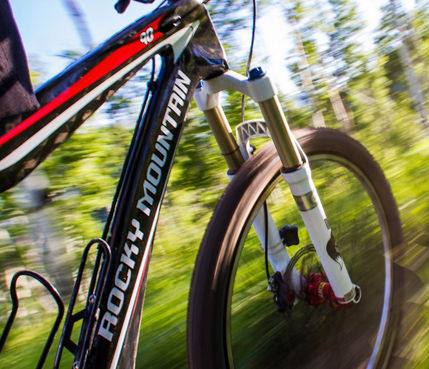 South Lake Tahoe is fabulous for mountain bikers looking for adventure, awesome scenery, and an escape from the hustle and bustle of everyday life.

Kirkwood, a small alpine town and ski resort in Eldorado National Forest, in the mountains outside South Lake Tahoe is a mountain biking destination worthy of anyone passionate about riding trails. The mountains, scenery and trails winding through pine trees around the resort are a great way to spend a day out mountain biking like no other.
Experience Mountain Biking in Kirkwood
The Kirkwood area's network of trails includes amazing Lake Tahoe views and even 360-degree panoramas at higher elevations. Mountain biking at Kirkwood is something every mountain biker should experience, from professionals to enthusiasts to novices. Riders will find biking trails perfect for every experience level, from easy cruising to exhilarating downhill lift-served thrills.
If you'd like a leisurely day out, there are plenty of scenic lakeside spots where you can hop off the saddle and take a well-deserved rest stop. But if pushing yourself to the max is more your style, you'll want to experience the rush of Kirkwood downhill mountain biking at the resort.
Here are five of the best trails for mountain biking in Kirkwood and surrounding areas:
1. The Kirkwood Mountain Resort Trails
Kirkwood Mountain Resort
is a mountain biking hotspot offering more than 20 national forest trails for bikers of various abilities. It's a paradise of lovingly maintained routes for enjoying Kirkwood mountain biking, including easy-breezy outings for novices and free-ride lines with enough jumps and berms to keep expert riders busy.
This exciting network of mountain biking trails at Kirkwood takes you to high points above the Kirkwood Valley, allowing you quiet moments to commune with nature before your journey back. After the snow melts each year, there are generally 24 trails to choose from.
2. The Van Sickle Loop Mountain Bike Trail
This much-loved three-mile route of alpine meadows and pine forests attracts mountain biking enthusiasts of all levels. That's because the
Van Sickle Loop
Mountain Bike Trail offers enough challenges to keep you on your toes, yet it's accessible enough to relax and enjoy the ride.
Only 45 minutes from Kirkwood by car, this scenic mountain biking trip will take you through a combination of pine forests and alpine meadows, all while enjoying views of Lake Tahoe from various vantage points. But watch out for boulder outcroppings — navigate carefully!
3. Mr. Toad's Wild Ride Trail
This eccentrically named mountain bike route is also known as the Saxon Creek Trail and is around 17 miles from Kirkwood.
Mr. Toad's Wild Ride Trail
is probably nicknamed after a thrilling Disneyland California theme park attraction.
The route is famous in the region as a genuinely challenging downhill ride, perfect for adrenaline-seekers and more experienced riders. The trailhead begins at the top of Luther Pass in El Dorado National Forest, between Lake Tahoe and the town of Markleeville (you can take a shuttle up from the Grass Lake trailhead).
Once you reach the top of the pass, you can start testing your mountain biking mettle. You'll ride down a technically challenging, five-mile single track trail surrounded by breathtaking alpine scenery. Be warned — an upper section has big drops and rock-littered segments to maneuver. Banked turns, blind turns, and potentially low-hanging branches mean you definitely need to keep your wits about you on this one.
4. The Thunder Mountain Loop Trail
If you're craving an adrenaline rush of rocky obstacles and thrilling descents, the
Thunder Mountain Loop Trail
in Olympic Valley is waiting for you. Get ready to test your mountain biking skills on a trail that delivers enough technical challenges to keep you on edge — then rewards you with incredible vistas. On this looping trail, expect rocky terrain, dicey switchbacks, and unforgettable descents. This trail is around a half-hour from Kirkwood by car.
If you're looking for a mountain biking trail that feels like an adventure quest, Thunder Mountain Loop Trail is for you. Stay on the lookout for "rock gardens" (rocky sections), which will give you a chance to sharpen your biking skills while you try to navigate them. You can also opt for an easier, flowing descent around the rocks.
5. The Armstrong Pass Connector Loop Trail
This trail is ideal if you're craving adventure and want to test your mountain biking skills and uphill stamina. The reward is the stunning views. On the
Armstrong Pass Connector Loop Trail
, you can expect steep ascents and descents, as well as rockier segments and hairpin turns that require real concentration. You'll also have sections of steep uphill mountain biking, and although the incline is steady, it will put you through your paces. Watch out for the narrow, soft soil sections.
As you ascend higher, you'll be rewarded with incredible views of Lake Tahoe, making it well worth the endurance and exertion. This route also connects to other trails such as Corral Loop, Incense Cedar Loop, and Sidewinder Loop.
It's typically not a busy trail, so you'll have a chance to go full-throttle if the mood takes you. The best part of this trail is the exhilarating, single-track 12-mile descent. Only a 55-minute drive from Kirkwood, it's downhill mountain biking at its best.
Safety While Mountain Biking Kirkwood

Safety comes first on every mountain biking adventure. Follow these top tips when heading out for a ride.
Don't push yourself too hard: Never attempt a trail that's beyond your ability. If in doubt, err on the side of the easier routes.
Let someone you trust know where you're headed: This applies even when biking with a group.
Get the right kit together: Don't set out without appropriate clothing, equipment, and accessories. This includes a helmet, knee pads, and elbow pads to protect you from falls.
Stay aware of your surroundings: Accidents happen to even expert mountain bikers. Watch for obstacles, such as roots or big rocks, slippery terrain, and sudden blind turns.

If you'd like to try mountain biking near Kirkwood, there's something for everyone in this startlingly beautiful region of South Lake Tahoe. Choose relaxed beginner rides or rugged adventures that test even the pros. Be sure to add a Kirkwood mountain biking adventure to your bucket list — you won't regret it.

Want to experience the best mountain biking around Kirkwood and South Lake Tahoe? Book a stay near Kirkwood Mountain Resort and combine fantastic biking trails, unspoiled beauty, and a village offering all the amenities you'll need. You'll love all the popular dining options, such as Kirkwood Inn & Saloon, Scusa Italian Ristorante, The Cornice Pizza, Snowshoe Thompson's, and The Wall Bar & Grill.