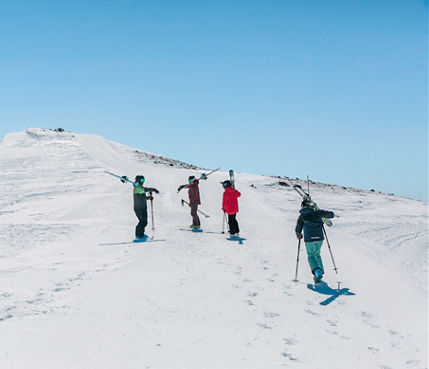 No two ski resorts are the same. When considering unique ski destinations for your next winter vacation, you'll look at many reviews and facts about authentic ski resorts. Your priorities are always individual, but if snowfall stats, smaller crowds, and the availability of expert-level slopes are essential, consider Kirkwood Mountain Resort as your winter sports destination.

Kirkwood is the least-crowded ski resort in Tahoe, and it's widely considered the best place for advanced skiing in Tahoe. Once you start reading about the unique experiences available at Kirkwood Mountain Resort, you'll soon know if it's the one for you.
Skiing at Kirkwood

For more than 50 years, Kirkwood Mountain Resort has welcomed locals and visitors to enjoy outdoor adventures across its five mountain peaks. It has a spectacular location in the Sierra Nevada mountains of eastern California, approximately 35 miles from South Lake Tahoe, the biggest city on the lake. As a secluded resort in pristine nature, Kirkwood offers widespread appeal to adventurous skiers and snowboarders.

The resort stands out from other ski areas in California, including others in Lake Tahoe, for its majority of advanced and expert-level terrain. Its conditions are exceptional, too, with a unique microclimate known as "the K Factor" dumping an average of 354 inches of snow on Kirkwood each winter. This is the most snow of any location in the Lake Tahoe Basin.

The resort has two main base areas: Mountain Village and Timber Creek, with a handful of bars and casual restaurants at each one. In addition, Kirkwood offers five lodging options ranging from single hotel rooms to three-bedroom condos. The most plentiful accommodation choices are townhouses with full kitchens, best suited to groups.

Facilities at Kirkwood include:
Ski and snowboard equipment rentals
An exceptional Ski and Ride School offering a full lineup of lessons
Expedition Kirkwood, an advanced backcountry adventure program
The Kirkwood Cross Country Center, where you can rent Nordic ski equipment, snowshoes, and fat bikes. Terrain for these activities is nearby, at Kirkwood Meadows and the Caples Creek Trail Systems.
Where Epic Terrain and Serene Solitude Converge
Kirkwood has 2,300 skiable acres, 86 trails, and 15 lifts, offering a vast range of opportunities for skiing and snowboarding to suit all desires. However, Kirkwood specializes in advanced and intermediate terrain — think super steep and deep. Highlights of advanced skiing in Tahoe include "The Wall" and around a dozen more double-black-diamond slopes. You can also access backcountry terrain for more expansive advanced options.
Kirkwood's Lesson Lineup
The
Kirkwood Ski and Ride School
offers complete lessons for first-timers up to expert levels. Group and private lessons are available, with private lessons customizable for up to six guests. Beginner lessons focus on fun and safety as you learn the basics of skiing or snowboarding, while intermediate classes can help you progress from blue runs to your first black diamond. What better place to do so than this unique ski destination?
Expedition Kirkwood
has classes, workshops, and guided backcountry adventures for those seeking to improve their advanced skiing in Tahoe. The signature program makes Kirkwood an authentic ski resort for snow sports enthusiasts who want to expand their skill sets through advanced ski lessons and clinics focused on Big Mountain Education you wont find elsewhere.
The Ultimate Playground for Serious Skiers
Kirkwood is indeed a fantastic choice for serious skiers. Renowned for its challenging terrain and exceptional snow conditions, the resort is a haven for those who are passionate about skiing. Serious skiers are drawn to Kirkwood for its challenging terrain, consistent snowfall, and uncrowded slopes. It provides a ski experience that caters to the demands and expectations of those who are dedicated to the sport.
Around 38% of the resort's terrain is ranked advanced, with a further 20% expert. This is unrivaled among ski resorts in Tahoe.
Is Kirkwood a Good Choice for Beginners?
Approximately 12% of Kirkwood's terrain is beginner-level: perfect for first-timers, those out of practice, and those who prefer to stick with the easy, breezy slopes. Lessons for beginners are readily available at Kirkwood, too. Keep Kirkwood in mind if your group includes novices and more experienced skiers and snowboarders. Those who are new to the world of skiing will find a welcoming environment for beginners with well-designed beginner areas with gentle slopes, scenic beauty and a family friendly atmosphere.
Expect Smaller Crowds at Kirkwood
You might have noticed that Kirkwood's primary focus is on snow sports, with other amenities and entertainment all secondary to the slopes. Coupled with the firm emphasis on advanced skiing in Tahoe, this approach makes Kirkwood the least-crowded ski resort in Tahoe. Those double-black-diamond slopes aren't for everyone! And that keeps the resort as a whole delightfully uncrowded.
Kirkwood is also a Tahoe locals' favorite, so the slopes are busier when the snow conditions are especially good. Those who head there for a winter vacation in California will appreciate Kirkwood's smaller crowds.
Kirkwood's Unique Vibe
Defining the "vibe" of a destination is always tricky, but Kirkwood regulars and prior visitors tend to be younger, more adventurous, and more experienced with snow sports. Low-key and humble, Kirkwood is also more of a no-frills resort. You could say it's closer to a beers and burgers scene than an apres-ski experience.

Overall, Kirkwood is ideal for:
Experienced skiers and snowboarders looking for a challenge
Locals who aren't interested in the tourist angle
Anyone who wants their vacation to be all about skiing or snowboarding, with few distractions
Groups who prefer condo-style, self-catering accommodations
Skiers and snowboarders looking for niche lessons and classes.
Get Ready to Ski and Ride to Your Heart's Content
Is world-class skiing or snowboarding your No. 1 priority in picking a unique ski destination? There's a good chance you'll
fit right in at Kirkwood
!
From its advanced terrain to its reputation as the least-crowded ski resort in Tahoe, Kirkwood earns its spot as a low-key, top-notch, secluded resort that keeps the thrills coming.