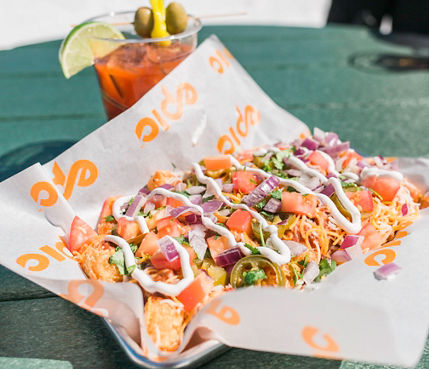 After an invigorating day on the slopes, there's nothing better than dining out at one of the many attractive restaurants in Kirkwood Village. And while you're skiing or snowboarding, it's fun to take a break and enjoy a sandwich, burger, or beverage at one of Kirkwood Resort's many slopeside eateries. Here's a look at eight of the best restaurants in Kirkwood Resort, and why you'll love visiting them.

Please remember that menu items may change depending on the season, time of day, or what the chef happens to be preparing that evening.

Cornice Pizza

What's a ski resort without a great pizza place? Just a four-minute walk from Kirkwood Mountain Resort, Cornice Pizza fills the bill with fresh, hot pies you can customize according to your taste. The atmosphere is relaxed, casual, and quietly festive, just like a pizza place should be.

In addition to pizza, you can order wings, calzones, and a variety of salads. Plus, there's a great selection of craft beers and cocktails to choose from.

Kirkwood General Store Deli

Inside Kirkwood General Store you'll find a hidden gem — an authentic deli — with its unique slant on the classic deli menu. Located in Red Cliffs Lodge and just minutes from Kirkwood Mountain Resort, the General Store offers delicacies like Devil's Draw (pepperoni, roast beef, provolone, pepperoncini, and horseradish on a French roll) or Palisade's Pastrami (pastrami, sauerkraut, Swiss cheese, and Thousand Island dressing on marble rye bread).

You can also "freestyle it" by building your own sandwich with a wide assortment of meats and condiments to choose from. Morning breakfast is also available, with egg sandwiches and breakfast burritos served daily.

The Wall Bar & Grill

Located in the heart of Kirkwood Village and right next to chairs 5 and 6, The Wall Bar & Grill offers classic American fare, with specialties like the Shrimp and Lobster Po'boy, Wall Bar Burger (with bacon, served on a brioche bun), and Chicken Bruschetta (served with pesto, mozzarella, roasted tomatoes, and red peppers on grilled sourdough bread).

In addition, you'll find a few surprises, like the Shrimp and Lobster Waldorf Salad and the Poke Bowl (with Ahi tuna and chili paste on soba noodles). They also offer several veggie options, including burgers and chili. The ambience is casual (think ski tavern), and the drinks menu offers an attractive array of wines, craft beers, and cocktails.

Kirkwood Inn & Saloon

If you're hankering for barbecue, this is the place to be. Conveniently located near Kirkwood Mountain Resort, Kirkwood Inn & Saloon has a fun, ski-saloon vibe that's ideal for après-ski relaxing. The menu is eclectic, with house-smoked barbecue as one of the main attractions. However, you'll also find homemade biscuits, pies, and house-cured pastrami.

Specialties include House Smoked Fried Chicken, Wood Grilled King Salmon, St. Louis Ribs, and that wonderful but elusive Quebec dish, Poutine (fried potato wedges and cheese curds in beef gravy).

Snowshoe Thompson's

This super-casual eatery resembles a huge ski hut and serves tasty treats that somehow taste even better when you're on a snowy slope. Located alongside the slopes in Kirkwood Mountain Resort, Snowshoe Thompson's serves up ski lunch favorites like chili (or veggie chili), soup, mac & cheese, and refreshing drinks, including beers and ales.

Monte Wolfe's Mountain Kitchen

The ultimate grab-n-go or sit-down spot for delicious hot meals, Monte Wolfe's serves an extensive selection of soups, salads, burgers, and sandwiches, and also boasts a loaded baked potato bar, plus an espresso bar and Starbucks Coffee offerings. Just a three-minute walk from Kirkwood Mountain Resort, Monte Wolfe's atmosphere is ultra-casual, with most folks getting ready to hit the slopes as soon as they leave.

K-Bar

While it's more of a bar than a restaurant, this locals' favorite is worth including. K-Bar is considered the unofficial community bar of Kirkwood Village, and you'll see why once you step inside. The atmosphere is super-casual, fun-filled, and friendly, the sort of place where everybody really does know your name. It's a popular spot in the village, especially for après-ski fun.

While the drinks, beers, and camaraderie are the biggest attraction, another huge draw is the round, umbrella bar-style construction, located right in the middle of the village in Kirkwood Plaza. The walls are floor-to-ceiling windows, creating panoramic views wherever you look. You can nibble on bar fare (including giant soft pretzels), drink your favorite beverage, and people-watch to your heart's content.



Whether you come for skiing, snowboarding, or scenic views, you'll find plenty of great casual dining restaurants in Kirkwood, with a wide range of menu items to suit every taste. If you're ready to plan an unforgettable winter vacation, be sure to visit Kirkwood.com to learn more about the winter sports, restaurants, and entertainment venues you can enjoy at Kirkwood Mountain Resort.