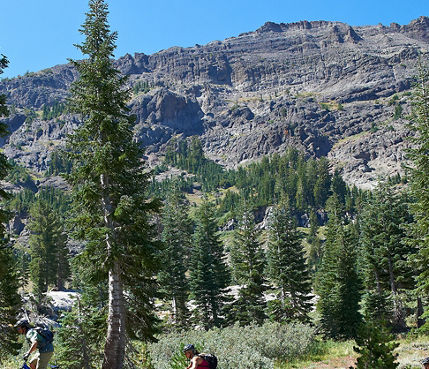 Fall in the Sierra Mountains is a magical time for nature lovers. The turning leaves of oak, cottonwood, willow, and aspen stand out against the evergreen hues of native pine and fir trees. It's a seasonal display that can't be missed if you're planning to visit Kirkwood in October. Check out one or more of these spots to see the best fall foliage in Northern California.


When Can You See Fall Colors Near Kirkwood?
The exact timing for fall colors in Hope Valley, CA, and the Carson Pass varies slightly every year. Trees generally begin their transition by early October and will display bright fall colors for four to five weeks. Hiking conditions are usually good during this time of year, so you can enjoy fall foliage up close on one of the area trails.
You can check the map and fall foliage report on the
California Fall Color site
to get a better idea of when the foliage is turning. Most locals recommend checking out the leaves in mid-October when they're usually at their peak. Hope Valley and Carson Pass fall colors will subside by early November.
Enjoy the Hope Valley Fall Colors
Located about 12 miles from Kirkwood on CA-88 E, Hope Valley is regarded as one of the top destinations for fall foliage in the Sierras. You'll encounter huge aspens against a dark-green backdrop of evergreen vegetation. This area is known for its
quaking aspens
in particular. The leaves of these trees shake or 'quake' in the breeze, creating a shimmering effect that's especially stunning during the fall.
To enjoy Hope Valley's fall colors, you can drive through the area on Highway 88 or stop and hike on one of many local trails. One of the best options is the Winnemucca and Round Top Lakes Trail. This
7-mile out-and-back route
is a moderately challenging trek popular with hikers, backpackers, and campers. You'll see both evergreens and aspens along the trail. Walk the whole route for an all-day fall foliage adventure. You can also cut the journey short and head back early to
grab lunch
and enjoy a restful afternoon at the resort.
Check Out Fall Foliage on Carson Pass

The Carson Pass is located just minutes from Kirkwood along CA-88 E. You can drive along 88-E up to CA-89, then head to South Lake Tahoe for an afternoon adventure. Or, you can stop and hike along the way. Start at the
Carson Pass Information Station
, just a few miles east of Caples Lake.
You can hike a section of the Pacific Crest Trail to Winnemucca Lake, where you'll enjoy impressive views of the local area, complete with fall foliage. Another option is to head across CA-88 and head out to Meiss Meadows. Both of these routes offer opportunities to view fall foliage and take in the scenery of the greater Lake Tahoe area.
Head Out on the Lake Margaret Trail
The
Lake Margaret Trail
is located just minutes from Kirkwood near Caples Lake. This 4.7-mile out-and-back route is moderately challenging and offers views of mountain scenery and expansive meadows. You'll encounter stands of aspen and may see a few fir trees along the route too.
This trail is well-known for impressive blooms of wildflowers in late summer. While you're not likely to see many wildflowers in October, a few hearty species may still be in bloom. Western moss heather, dwarf alpine paintbrush, and California corn lily bloom well into late September and early October during temperate years.
Take an Afternoon Drive to Sugar Pine Point State Park
Some of the best fall foliage in the Kirkwood area is located just off the sides of local highways. You'll see colossal aspen stands as you travel to both the Carson Pass and Hope Valley areas. If you're up for a longer drive, set aside time to take the scenic route to
Ed Z'Burg Sugar Pine Point State Park
. Without any stops, the drive takes about two hours round trip.
To take this route, head north of Kirkwood Meadows Drive to CA-88. Take a right and head east over Carson Pass and through Hope Valley. There are several turn-outs along the way where you can stop to take photos. Continue on until you run into CA-89 near Sorensen. Head north on 89 for about 11 miles until you reach US-50 E. You'll continue on to 50, then follow the signs to Sugar Pine Point SP.
The park is home to fir, aspen, and evergreen species like cedar and pine. There are hiking trails throughout the park — stop at the visitor's center and ask which trails are ideal for seeing fall foliage. Don't forget to take photos of the Lake Tahoe shoreline while you're here too. The lighting on the lake during October afternoons is ideal for Insta-worthy shots.
Enjoy a Foliage-Focused Day Trip to Fallen Leaf Lake
Located about 50 minutes from Kirkwood,
Fallen Leaf Lake
is a popular spot for scoping out fall foliage in the Sierras. You can enjoy the changing fall colors of the Carson Pass and Hope Valley as you make the drive up to this hiking destination.
To get to Fallen Leaf Lake, take CA-88 E to the junction with CA-89 N. Follow 89 to Fallen Leaf Road, where you'll find a campground and trailhead. This 3.5-mile out-and-back trail is considered moderately challenging. It's open year-round but may have some patches of snow along the trail, even in summer.
Protect Fall Foliage by Leaving No Trace
The fall foliage in Northern California is so beautiful that you might want to plan a yearly trip to Kirkwood just to see it. You can help protect the delicate local environment by leaving no trace behind when you head out on hiking trails and scenic drives. Pack out any trash you bring, and avoid removing flowers, rocks, or other 'natural souvenirs' from wilderness areas.
Plan a Fall Foliage Sightseeing Trip
If you're yearning for the amazing fall season and the changing in colors it's time to head to Kirkwood Mountain Resort.
Stay at the lodge
, where you can enjoy on-site dining and shopping. It's the perfect time of year to visit and an outstanding destination for a fall colors tour.