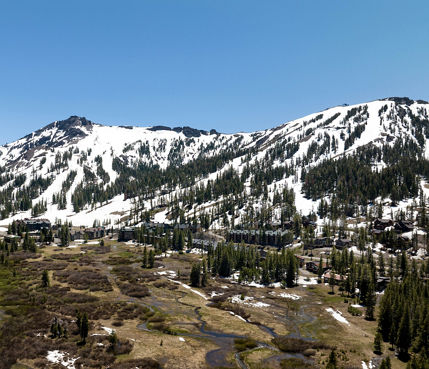 You can find plentiful natural wonders ranging from towering rock formations to iconic Lake Tahoe within an hour of Kirkwood. The area is home to diverse ecological systems, including montane forests, mountain meadows, and subalpine zones. During the summer months, the rugged terrain that skiers love at Kirkwood sports some of the most beautiful wildflowers in Northern California. If you're headed to the resort in summer, put these eight Kirkwood wildflower destinations on your to-do list.

Head Out on Kirkwood Wildflower Trails

Kirkwood Mountain Resort is home to 12 hiking trails, all offering opportunities to see wildflowers throughout the summer. You'll find stands of flowers in meadows scattered around the mountain and off the sides of most trails. Watch for changes in flower species as you gain elevation.

Some of the most impressive wildflowers in the area thrive in subalpine climates. To get current trail recommendations and hiking gear, you can head to Kirkwood's Mountain General Store or the Summer Ticket Office in the Village Plaza.

Hike to Lake Winnemucca from Carson Pass

This popular spot is one of the best areas to catch Kirkwood wildflowers in bloom. It's located in the Mokelumne Wilderness, one of Northern California's best destinations for hunting seasonal flowers. A moderately challenging route, this just over five-mile out-and-back trail takes off from the Carson Pass Information Station on Highway 88. Be sure to check conditions before heading out — the trail is often covered in snow in summer, so hiking conditions might not be ideal.

If you're lucky enough to head out for a Carson Pass wildflower hike at the right time, you can spot:
Mountain Larkspur
Crimson Columbine
Alpine Lily
Sierra Primrose
California Blushing Monkeyflower
Prairie Smoke
These same species can be spotted on trails throughout the Kirkwood area.

Explore Kirkwood Wildflowers at Showers Lake

Like several other wildflower trails around Kirkwood, this one is located on the Pacific Crest Trail (PCT). It's a popular route where you'll likely see other hikers and cross-country skiers. It's a moderately challenging hike with a decent elevation gain of about 1,300 feet. Thanks to the altitude, you can catch wildflowers blooming here well into late summer most years. Be aware that there may be snow on the trail year-round, especially at higher elevations.

The out-and-back trail is 10.1 miles and takes off from a parking lot just below Carson Pass on Highway 88.

Head Up to Lake Margaret for a Wildflower Show

Located in the El Dorado National Forest, Lake Margaret Trail is a moderately challenging two-and-a-half-mile hike across diverse terrain, including granite slabs and meadows. Wildflowers here generally bloom in mid-summer, but some years see later blooms too. It's ideal when you're looking for a quick hike that's just challenging enough to be interesting.

The trailhead is located off Highway 88, just a few minutes from the main Kirkwood entrance. Be aware that there are several stream crossings on this route. Streams can be very high during spring and early summer.

Take a Wildflower Trek from Caples Lake to Emigrant Lake

The full Emigrant Lake Trail runs for 14 miles and generally takes two days to hike. However, you can catch some gorgeous wildflowers on a shorter, four-mile trek that travels from Caples Lake to Emigrant Lake. You'll hike along the shoreline of Caples Lake and up to Emigrant Lake on this moderately challenging trail, which tends to be popular during the summer and fall months.

The trailhead is located at the Caples Lake Dam parking area about five minutes from Kirkwood.

Make the Wildflower Journey to Thunder Mountain Summit

The trail leading up to Thunder Mountain Summit is a great pick if you're looking for a half-day hike. It's a moderately challenging route that boasts an elevation gain of almost 2,000 feet and tends to have snow year-round. During the first mile, hikers pass through a burn area affected by wildfires in recent years. From there, the trail rises until it reaches the summit. Wildflowers are scattered along the route.

There is a caveat to Thunder Mountain: There are summers when the trail is impassable without crampons, microspikes, or snowshoes. Check current conditions before you head out. The trailhead is located off Highway 88, about two miles east of Kirkwood.

Trek Around Winnemucca and Round Top Lakes

Mixed pine forests and meadows bursting with wildflowers await you on this seven-mile out-and-back hike. This trail follows the PCT and actually passes three lakes. Shortly after leaving the trailhead parking lot, you'll encounter Frog Lake. From there, the trail heads up past Lake Winnemucca to Round Top Lake.

Be sure to check the conditions before you head out. There's often snow on the trail well into the summer, and sections may not be passable without ice hiking gear. The trail heads out from the main Carson Pass Trailhead on Highway 88, about six miles west of Kirkwood.

Challenge Yourself on the Upper Truckee River and Meiss Lake Trail

This challenging 10.1-mile loop trail isn't for inexperienced hikers or the faint of heart because it includes some stretches of rugged, technically challenging hiking. If you have the experience and time, it's a rewarding hike that will take you along the Truckee River to Meiss Lake, where it loops back around. You can spot wildflowers on the upper portions of the hike well into late summer.

The trailhead is located on Highway 88 just north of Carson Pass in Meiss Meadow SNO-Park. You'll need to buy a SNO-Park permit to use this trail.

Care for Kirkwood Wildflowers by Leaving No Trace Behind

Wildflowers are a delicate part of the natural environment around Kirkwood. Ensure that you can enjoy them for years to come by following a few simple rules.
Leave no trace behind by packing out all of your garbage.
Don't pick wildflowers or collect items while on your hike.
Stick to established trails — going off trail can damage or kill delicate vegetation.
Respect wildlife by not feeding or approaching animals.
Refrain from smoking or lighting cooking fires while hiking to help prevent devastating forest fires.
Is it time to head out on a wildflower trek of your own? Make Kirkwood Mountain Resort your base camp. It's just minutes away from some of the best wildflowers in California.